History can become a very scoring subject for UPSC prelims if you are able to memorize well. Since it is so scoring and easy to study for anyone with a good memory, it is one of the most popular optional subjects in UPSC exams. The UPSC prelims history syllabus focus on three broad sections namely- ancient, medieval, and modern Indian history. The overall syllabus is huge but at the same time, there is a significant number of questions in IAS prelims that are from the history section. If your preparation for this subject is on-point, you can successfully solve all the questions from history.
Here are some important and useful tips and tricks on how to read history for UPSC Civil Services Prelims Exam. The article/post covers the area to focus in Ancient India, Medieval India, and Modern India as well as on how to create history timelines for the IAS Exam preparation.
For exams like IAS, a smart strategy is much more useful than hard work. In order to come up with a strategy that works for you, it is important to recognize the different segments of the subject and the mark weightage they have. This way you can determine the portions were you must put maximum time and effort for preparation.
How to start History for UPSC exam?
The first step in starting any subject is to go through the UPSC syllabus for that subject.
Know more about complete UPSC Syllabus at the linked article here
The General Studies paper of Civil services preliminary exam comprises of Polity, Geography, Economy, History, General Science and Current Affairs. Both Indian History and culture are correlated and vast subjects. The Indian History and culture are considered as the significant part of both the Civil Services Preliminary Exam and the Main Examination 2020. A substantial segment of the total questions asked in General Studies Paper I for IAS exam come from Indian History that blended with culture. A judicious assortment of hard work and the right strategy will ease the history preparation. Here we are sharing the best strategy for how to study history for UPSC.
The history is divided into three parts. They are:
1. Ancient India
2. Medieval India
3. Modern India
The three segments carry a substantial amount of weightage in both UPSC prelim and mains examination. Along with these segments culture also plays a prominent role. It has been attaining a lot of mileage nowadays. The subject itself has a plethora of facts and date.
Before getting in detail, let's take a look at the important reference books for history. Below given is a list of recommended books which candidates can refer for their UPSC 2020 Prelims Exam.
Must Read Books for Indian History:
Detailed reference books for Indian History:
• India's Ancient Past – R.S. Sharma (For Ancient Indian History)
• History of Medieval India – Satish Chandra (For Medieval Indian History)
• India's Struggle for Independence – Bipan Chandra.
• A Brief History of Modern India – Spectrum (History)
• History of Modern India – Bipan Chandra
Read through to know the tips and tricks to cover the history syllabus for UPSC civil services prelims exam.
Ancient India
1. Prehistoric Period
2. Indus Valley Civilization
3. Vedic Period
4. Kingdoms and Empires of Ancient India
The following are the important topics from ancient Indian history, based on the frequency and volume of questions asked from these sections in the past few years.
Focus on different periods like the Stone Age, Paleolithic age, Mesolithic age, Neolithic and chalcolithic age.
Socio-economic-cultural facets of the Indus valley and Harappan civilization.
Different Harappan sites and their significance.
Artifacts excavated from these sites that denote their art, culture, and script used during this period.
Basic knowledge of Vedic society, family, marriage, norms, etc. – focus on the religious, social, and cultural aspects.
Read about the Dharmashastras, Puranas, six systems of philosophy, Vedas, Upanishads, etc.
Terms and their meaning- UPSC is frequently asking questions regarding the meaning of terms like Jana, Purohita, and Panchayattan, etc.
Guptas and the Mauryans emperors and their kingdoms.
Basic Reading
For Ancient India, it highly recommended reading the NCERT below mentioned. In past years UPSC has asked questions directly from this area. There are a lot of terms mentioned in this textbooks and UPSC has grabbed the same for compiling question paper. You can also check the Ancient History notes page link provided after this section.
• Class VI Ancient India (Old)
• Class XI Ancient India (Old)
Focus areas – Ancient India
The Ancient History begins from the initial period to the mid of 8th Century AD. The aspirants should focus the different periods like Stone Age, Palaeolithic Age, Mesolithic Age, Neolithic Age and Chalcolithic Age. They should know about the major changes that happened in those periods.
The next area is the Indus Valley Civilization or the Harappan Civilization. The aspirants should focus on the way of life of people during this period. They should analyse it in Socio-Economic-Cultural facets. Along with that candidates would be able to know the Harappan sites and its significance. They have to focus on Art, Crafts- seals. Script and language used during Indus valley civilization.
In Vedic period, the candidates should have a basic knowledge about Society elements like family, marriage, and caste system etc. It is very essential to know the differences between Early and Later Vedic Society and lifestyles followed by people. They should focus on the religious, political and economic set up in that period. The Vedic period is famous for its literature. Aspirants should know about the Vedas, Upanishads, Dharma Shastras, Puranas and Six systems of Philosophy.
Nowadays the UPSC is coming with several terms and their meanings like Eripatti, Purohita, Jana and Panchayattan. So while preparing for Indian history aspirants should note down these kinds of terms with their meaning.
The ancient period has witnessed the emergence of so many religions. The two major religions developed in that period are Buddhism and Jainism. The teachings, Philosophy, Literature, belief of two religions have to be studied in depth.
The kingdom and rulers of ancient India is also an important area. One should know about the name of the ruler, his kingdom, his major reforms, and their contribution to the society, art and culture etc. UPSC has asked lots of question from the Mauryan and Gupta reign. In this scenario, the Mauryan and Gupta periods are still relevant topics in IAS Exam.
---
Timeline for Ancient India
There were activities of Homo erectus in the Indian subcontinent 20 lakh years ago and of Homo sapiens since 70,000 BC.
The first inhabitants of Indian subcontinent might have been tribal-like:
Nagas in North-East
Santhals in East-India
Bhils in Central India
Gonds in Central India
Todas in South India
These people speak Austric, pre-Dravidian languages like Munda and Gondvi.
Aryans and Dravidians are supposed to be immigrants who came later to the sub-continent.
Palaeolithic Period (2 million BC – 10,000 BC)
Important Palaeolithic sites are Kaladgi Basin, Bhimbetka, Hunsgi, Kurnool Caves and Narmada Valley,
Tools made up of limestone
Fire was discovered
Mesolithic Period (10,000 BC – 8,000 BC)
Microliths were found at Brahmagiri, Narmada and Gujarat
Domestication of animals and Cattle rearing were started in this period
Significant climatic change happened
Neolithic Period (8000 BC – 2000 BC)
Wheel discovered and agriculture was started in this period
Inamgaon is an early Neolithic village
The major megalithic Sites are Brahmagiri and Adichanallur
Important Neolithic Sites:
Hallur (Andhra Pradesh)
Mahagara (Uttar Pradesh)
Maski
Paiyampalli (Andhra Pradesh)
Sangana Kaller
Utnur
Burzahom (Kashmir)
Chirand (Bihar)
Daojali Hading (Tripura and Assam)
Gufkral (Kashmir)
Kodekal
Koldihwa (Uttar Pradesh)
Mehrgarh (Pakistan)
Takkala Kota
Indus Valley Civilization (BC 2700 – BC 1900)
This was established around 3300 BC. It flourished between 2700 BC and 1900 BC (Mature Indus Valley Civilization). It started declining around 1900 BC and disappeared around 1400 BC.
Chalcolithic Period (4000 BC – 1,500 BC)
It is also known as the Copper Age and considered part of the Bronze Age.
Iron Age (BC 1500 – BC 200)
Vedic Period and Arrival of Aryans
Basic books of Hinduism, Vedas were composed in this period.
Rise of Jainism and Buddhism
Mahajanapadas
Magadha empire– Bimbisara of Haryanka Kula
Sishunaga dynasty – Kalasoka (Kakavarnin)
Nanda empire – Mahapadma-Nanda, Dhana-Nanda
Persians – Greek arrival: Alexander 327 BC
Mauryan Empire (324-187 BC)
322–298 BCE- Chandragupta
298–272 BCE- Bindusara
268–232 BCE – Ashoka
Mauryan Kingdoms was succeeded by
Sunga (181-71 BC)
Kanva (71-27BC)
Satavahanas (235-100BC)
Indo-Greeks, Parthians (180BC-45AD)
Sakas (90BC-150AD)
Kushanas (78AD)
Sangam Age (300 BC – 300 AD)
Gupta Empire (300AD – 800AD)
This was an ancient Indian empire
Samudra Gupta of the Gupta Empire is known as Indian Napoleon
Post-Gupta or Contemporary Gupta
The deterioration of Imperial Guptas, Magadha and its capital, Pataliputra
After the fall of the Guptas, important centres of power arose:
Vardhana Dynasty
Mukharis
Hunas
Pushyabhutis
Gaudas
Varman
Maitrakas
Also, Rajputs, Senas and Chauhans succeeded later.
Aspirants can get Ancient History Notes from the linked article.
---
Medieval India
The Medieval History starts from the mid of 8th Century to the beginning of 18th Century AD. The questions from Medieval History are limited, not like Ancient and Modern History. From 2011, UPSC has asked only 1- 4 questions from this area. But we cannot avoid this portion in the name of an emerging trend. UPSC is always unpredictable and it can come up with surprise in the coming year also. Several aspirants avoid this section, but you can smartly focus on definite topics.
Religious movements
Rulers and their reign
Art and Architecture
Medieval Indian history is from the mid 8thcentury to early 18th century AD. The number of questions from this section is rather limited and you will get 1-4 questions as most. Hence, the preparation should be accordingly taken.
Dates and facts related to the Mughals, Vijayanagar Empire, and the Sultanate rulers. Focus only on the economic, political, and social setup during these periods.
Religious movements like Sufi and Bhakti movements happened during this period and have significant marks weightage in UPSC Prelims. Focus on important saints, their chronology, doctrines, and their social impact.
Art and cultural aspects of this period are very important.
Basic reading for Medieval India
The NCERT textbooks mentioned below are very helpful sources for the basic reading Medieval India. The story of civilization also gives some information about Medieval Indian History.
Class VII Medieval India (Old)
Class XI Medieval India (Old)
Class IX Story of Civilization Part-I (Old)
Class X Story of Civilization Part-II (Old)
Focus areas – Important areas – Medieval India
Medieval India is comprised of the Mughal, Vijayanagar Empire, Sultanate rulers this area is very interesting and loaded with numerous facts like other periods. One has to focus on the Political, Social, Economic setup during their rule. Along with that one has to be thorough with the rise and fall of the empires.
The period had also witnessed religious movements like Sufi and Bhakti Movement. So, aspirants should focus this area with their important saints, their doctrines and impact on society.
Apart from that, one has to focus on the art and culture area. The medieval Indian had witnessed the birth of several buildings and sculptures. Aspirants should give special attention to this area specifically during Mughal rule.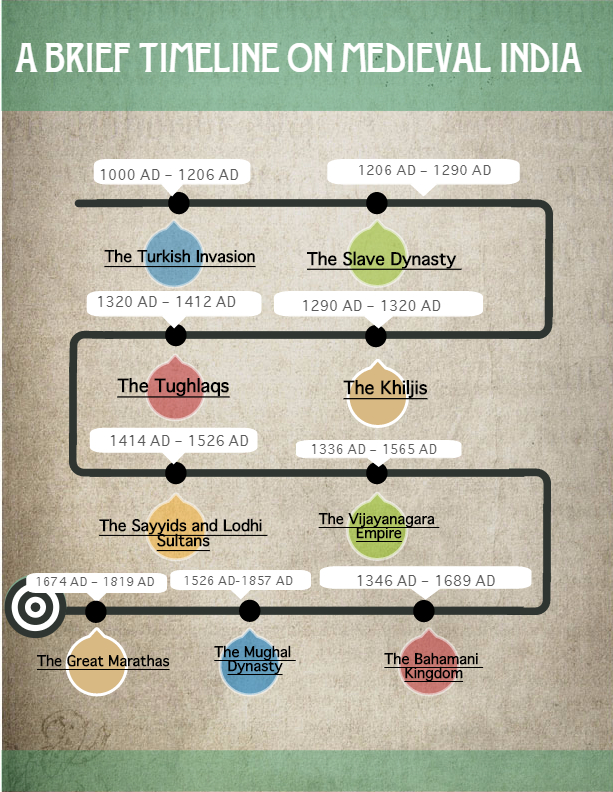 Aspirants can get Medieval History of India Notes for UPSC in the linked article.
Modern India
The modern Indian history talks about the period of the emergence of a foreign power in India till freedom struggle. The bulk of the questions comes from Modern Indian history for both prelims and mains examination. It will be sensible to organize the topics sequentially and unit-wise. We can divide the "Modern India" segment into several parts which will help you know how to study history for UPSC.
Rise of the foreign power in India
Emergence of East India Company and related events
British takeovers and reactions from Indians
British economic policy
Socio-cultural facets
Freedom struggle and independence
Focus areas – Important areas – Modern India
In recent times there are lots of questions are asked from this area. Aspirants should concentrate in the Freedom struggle and independence area. They should know about the different movements, the purpose, and consequences of movements, personalities behind the movement etc. Aspirants should also focus on the role of Literature and Press. One should jot down the 'chronology' of the most important Movements and Missions lead by the British to gain the backing of the Indians and expand their administration.
History is loaded with full of facts and figures. Candidates should know about the Governors-General and viceroys, the reformation brought by them. Along with that aspirants should also focus on the different Acts, provisions and their impact on Indian society. The topics like Political-Administrative organization system by British, Socio-Economic arrangement like Permanent Settlement, Major Reports, Sessions, Acts, and Committees set up during the British reign are also important in IAS exam.
Religious and Social Reform Movements also play an important role from the exam point of view. The impacts of social reforms on Status of Women, Caste system, Education, of the society are considered as an important area for IAS Exam.
The time period is vast and so are the historical events during this period. The period primarily focuses on the emergence of a foreign power and the struggle for freedom. The maximum number of questions comes from this period. To cover the entire syllabus thoroughly, divide the period based on the time frame and event, and cover each section thoroughly. You can divide this period in the following manner:
Rise of foreign power in India
East India Company and its rise to power
British taking over Indian provinces and the reaction from Indians against it
Different economic policies of the British
Interference of the British Empire in the expansion of the East India company- establishing rules and policies to control the company's expanse and further colonize India.
Socio-cultural effects of the freedom struggle
Movements and different aspects of the freedom struggle
Jot down the chronology and make sure you remember it well as the chronology of the modern Indian history can be very confusing.
Special attention to be given to the political and administrative system by the British, permanent settlement, acts, reports, and committees set up during this time.
Impact of these acts and provisions on the Indian society.
Aspirants can get Modern Indian History Notes for UPSC in the linked article.
(Batch -2) Prelims Online Test Series for UPSC CSE (IAS) 2021
Check Important Questions For Preparation of Indian History
General strategy to study UPSC History
The following are generic practices to study UPSC history. You must have a clear idea about the timeline and chronology of the events in order to attempt the IAS Prelims questions correctly.
Create a chronology for every period with the important events mentioned. This will help you to revise better at the last moment.
Revise the entire syllabus at least two to three times in the entire time span.
Solve previous year papers as well as IAS practice papers for history on a regular basis to have better preparation.
It is easier to prepare for history compared to other subjects as it is factual rather than conceptual. You can read through the entire syllabus like a storybook and revise it a few times before the exam.
Best wishes!!