Since January 2018, nearly 130 tonnes of waste has been brought down from the Siachen Glacier and disposed of.
The Siachen glacier demarcates central Asia from the Indian subcontinent, and separates Pakistan from China in the region. The Saltoro Ridge of the Siachin glacier serves as a divide that prevents direct linking of PoK with China, stopping them to develop geographical military linkages in the area. Siachen also serves as a watchtower for India to keep a deep watch on Gilgit and Baltistan regions of Pakistan. If Pakistan gets the location advantage in Siachen, it would become a big threat to India from the west in Ladakh in addition to Chinese threats from Aksai Chin of the east. Due to its control over Saltoro Ride, India is better placed to strike a bargain while settling bilateral territorial disputes with Pakistan in the future. Siachen also helps India to keep a close watch on China 's activities as Beijing has vastly improved its infrastructure in this region. Siachen Glacier is situated to the North of Nubra Valley.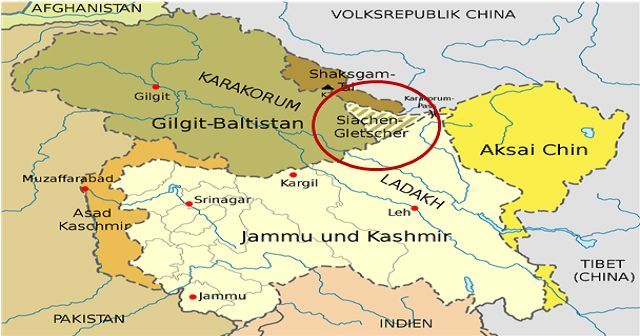 The Army has made bringing down waste a part of the Standard Operating Procedure (SOP) for troops under the concept of waste management because in the high altitude areas of 18,000 to 21,000 feet nothing degrades at sub-zero temperatures.
The entire Siachen Glacier, with all major passes, is currently under the administration of India since 1984 (Operation Meghdoot).
The Siachen Glacier is located in the Eastern Karakoram range in the Himalayas, just northeast of Point NJ9842 where the Line of Control between India and Pakistan ends.
It is the Second-Longest glacier in the World's Non-Polar areas.
The Siachen Glacier lies immediately south of the great drainage divide that separates the Eurasian Plate from the Indian subcontinent in the extensively glaciated portion of the Karakoram sometimes called the "Third Pole".
The Siachen Glacier is part of Ladakh which has now been converted into a Union Territory.
The Siachen Glacier is the world's highest battlefield.
Operation Meghdoot
It was launched on 13 April 1984, this military operation was the first assault launched in the highest battlefield in the world.
The military action resulted in Indian troops gaining control of the entire Siachen Glacier.